How can I make a brief grading list of students' assignment submission?
Click Gear icon > Turn editing on. Choose the assignment and Edit settings > Feedback types, then tick Offline grading worksheet
How to create a Simple Grading Worksheet?
How to show File Details?
How to set the student group access?
How to ease your procedures of collecting students' presentation date?
How to create group by self-selection?
How to show the size of the uploaded files?
You can change the setting "Appearance" and tick "Show size".
How to show files to a specific group of students?
You can change the setting "Access restriction" and choose "grouping".
How can I identify a student belonging to which group?
You can click "Participants" in the main menu.
Re-use of Course and Question Bank
How to Import Questions? / How to copy my previous course contents to the current one?
How to import questions from your previous courses question bank?
Can I import questions as a quiz?
Yes, you can import questions from text file format.
How to submit large size file?
You can upload your large size file through Google Drive.
1. Click the Add icon



2. Click Log in to your account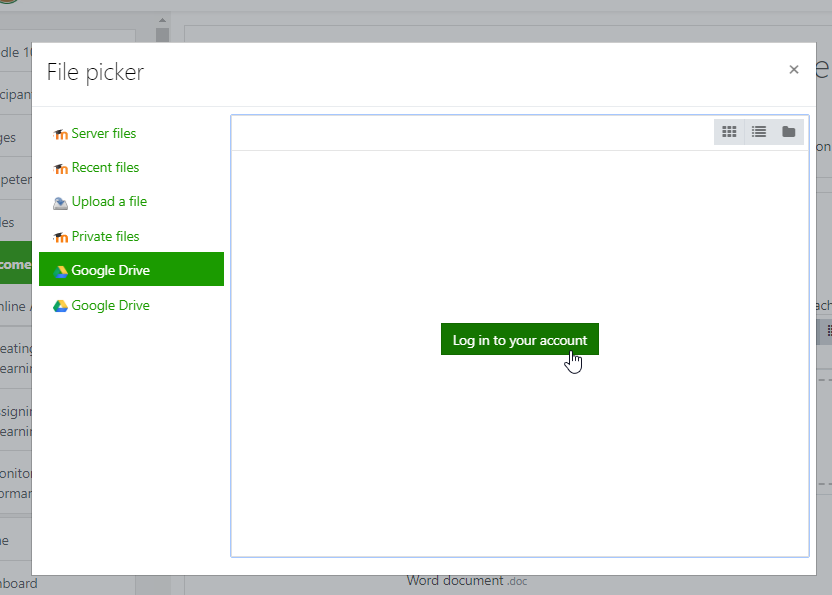 3. Choose the file to upload.